Cancer update (woo hoo!)
Today I visited my doctors again and they're telling me all is well. W00t! After last week's CT scan, everything looks normal. Or, as they call it, "stable." Well anyway, it means that at the next scan in November, it will already have been a solid year since I finished that gruesome chemo. Ninjas:1, Cancer:0, indeed. Memorable pic after the jump.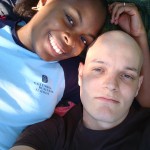 I forget which Sunday, but it was a wonderful day to walk in the park. And so we did. I love you, Janelle.