Casual Hamburger
Last month I visited the 2009 edition of Casual Connect in Hamburg, Germany. With our casual games report almost finished, I flew to Hamburg to meet the movers and shakers in Europe. The industry's state of affairs amidst an economic downturn persuaded a wide selection of companies to make an act-de-presence and network with existing and new clients. So here's what's up.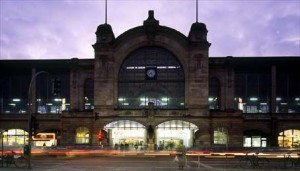 Serious Retailing
One keyword defining this year's conference was retail. John Barbour, the newly minted head of Real Arcade, delivered the opening key note. With only "fourteen weeks of experience the casual game's space," Barbour admitted, he leaned heavily on his experience with Toys"R"Us to guide Real. His appointment is an indication of the industry's maturing. To better capture and maintain a loyal customer base, a solid retail plan is essential. Working out the kinks on the back-end and making products and services more accessible to customers are two obvious cost-saving initiatives that will serve companies well. Also present was MMOLife, an aggregator of free-to-play MMOs, which recently received €1 million in funding. Its CEO Simon Usiskin earned his stripes by increasing the conversion rates for hotel websites. And Amazon, present in the form of recently acquired Reflexive, is hoping to convert a few of its 88 million annual customers into casual gamers. Quick math indicates that Amazon is looking at about $20 million of additional revenue from casual games. Its expertise as an online retailer will no doubt serve it well.
Price Point
Perhaps the most significant issue that surfaced at the conference was the expected drop in the average price point of casual games. If Amazon's entry into the market wasn't competition enough, the retailer also put its price point substantially lower, eyeballing the sweet spot between $7 and $10 for a game. Currently, Amazon sells games at $9.99 across the board. Many fear a decline in sales revenue at the same as advertising revenue is taking a dive. But, in fairness, a price drop has been a matter of when, rather than if, advertising's common metric "Cost Per Thousand" (CPM) currently stands at about $0.02, down from $0.15 a few months ago. In response the larger fish in the pond now offer customer loyalty programs in the form of $5.99 monthly subscriptions. 
Casual Games, No Fun?
A remarkable panel was "Publisher Showdown 2009," in which RealGames, Oberon, Reflexive, Intenium and iWin offered insight into their relation with small designers and developers. When asked what freshmen game developers should expect, answers varied but were mostly bleak. Work hours are endless, creative autonomy a naive dream, and you'll be "punished" whenever you fail to make a milestone. In an industry suffering from commoditizing content (e.g. clones), one would expect a little more encouragement for those undiscovered geniuses who are need to come up with the next generation of premium content. But no such luck. The overall imperious attitude with regards to price point and quality of content left little love in the room for aspiring game designers. 
iPhone, youPhone, everyonePhone?
Clearly the current focus is squarely on making money. Beyond squeezing the margins out of consumption and production, many are looking to expand the current audience base by developing for new platforms. In particular the iPhone was hailed as a worthwhile solution. During a panel discussion on Apple's successful handset, both panelists and audience members expressed their excitement, calling the device "a beacon of light." The phone's user-friendly interface drive growth as games yield 20 to 25% more sales when placed on a desktop, instead of hidden in a collapsed menu, according to Oberon. Nonetheless, large publishers seem to insist on an unfathomably high price point of $19.99 for an iPhone game. Claiming it to offer a similar experience to Sony's PSP and Nintendo's DS, the current generation of executives are hopeful the iPhone can bring in much needed additional sales. 
In this imperfect storm of declining revenues, increased competition and incessantly migrating audiences, there remains plenty of opportunity. A newcomer like Kongregate, a online publisher of user-created content, offers a substantially higher CPM of $2 and is moving toward virtual item sales. "Building a community," Chris Pasley told me, "is an essential part of the business model." A variety of other companies echoed this sentiment and reiterated the importance of engaging customers within a social setting to better facilitate monetization. As a result, many are looking to capitalize on the current success of games based on social networking platforms. With low development costs and a desirable audience segment, even the industry's modest conversion rate of 1% to 3% from free-play to a paying customer might prove profitable in the context of giants like Facebook. Perhaps the next Casual Connect, which will be held in Seattle on July 21 to 23, 2009, will further elaborate.