Female Advergaming gets Funded. Blows.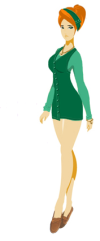 It is an obvious proposition: women like casual games, and advertisers like women. Therefore, advertisers like casual games. And so, unsurprisingly, a host of female-targeting games are sprouting all over the Interwebs.
Thanks to the technical convenience of flash-based games, every site, blog and forum now features some idiotic clickable nonsense. But, unlike some of the people who are investing money in this, I'm skeptical that some of these new 'portals' will successfully persuade any women.
Example.
Offering the latest in "celebrity and fashion games," MyHollywood site is run by a startup called Hollywood Interactive Group. It targets the "entertainment/news hungry" 25-45 year old female. And what a treat, indeed. The 'highlight' of the site is the "Red Carpet Game." Three easy steps promise to satisfy your entertainment/news hunger:
1. register 
2. create & dress your avatar
3. play games to win Cnotes (site's virtual currency) and buy (?) your way "up."
Whatever "up" means remains unclear, but suffice to say that you're really creating a profile and then go play the site's games. Oh but look. Those games suck. Why would anyone want to play "Zappos SoleMates" (poor woman's Bejeweled with name brand shoes) or "Soduko MakeUp"? Not only do these testify of an utter lack of game design, they clearly imagine their target demographic as a bunch of monkeys. 
But then, MyHollywood does have the producing genius of "The Simple Life" and "The Real World World" at the helm. And, mind you, BlueRun Ventures, the investment fund that just sank $5 million into MyHollywood, has had some respectable success. Most notably, PayPal (IPO & bought by eBay), Intelliseek (snagged by VNU/Nielsen BuzzMetrics), and Pogo.com (acquired by EA).
Although I'm excited to see new initiatives, and believe that this 'portal'-business model will prove successful, MyHollywood is pretty unconvincing. Sure, it's probably a placeholder that merely explains the idea to investors at this time. But offering a few crappy clones of popular games, not just as a side show but as its backbone, spells a five million dollar loss.